Frequently Asked Questions
Quick Questions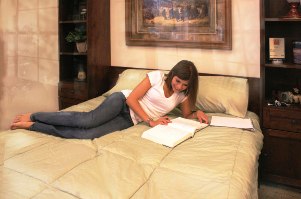 To put it very simply, price, quality, selection and a tradition of reliability. We have been building and shipping Wallbeds across the United States and internationally for more than 15 years. You can simply count on us. We are the manufacturer, so pricing is direct, saving you thousands of dollars on comparable products. We offer a greater selection of styles, wood types, color choices, cabinet selections and Home Office options than any other Wallbed or Murphy bed manufacturer or retailer. If innovation is interesting to you, we are and have been the industry leader in every major measurable way. We drive the industry in style, design and functional innovation. We recently designed the first Murphy Bunk Bed in the industry. We were the first to design and build the "Hidden Locking Leg", the Solid wood bed face, and the drop down table just to mention a few. We offer both Vertical and Side Mount Wallbeds in nearly every style we build. We are frequently imitated (copied) but we are never duplicated. We also have the ability to custom size our cabinetry to fit your available space. For home office purchases we design the room and function for you according to your specific needs, and communicate the design to you in the form of written quotes as well as PDF drawings for you to review. I am absolutely confident that there is not a better value available for your hard earned dollar. Our construction techniques and hardware insure you'll own your Wilding Wallbed for a life time. Our company Vision Statement is: Saving space...beautifully, with quality and innovation, one customer at a time. You are certainly not a number to us, and your experience from order through setup will be a pleasant, helpful and informative experience. We look forward to working with you!
Furniture Grade ply wood is actually seven layers of solid wood combined to make an extremely durable product. During the production of Furniture Grade Ply wood, the center piece of solid wood in laid in place with the grain running vertical, a layer is then added to the top and bottom of this center layer, but the grain runs side to side. The next two layers are placed, one on top and one on the bottom where the wood grain again runs vertical on both of these pieces. These five layers of solid wood are constructed in this "cross graining" procedure to eliminate bowing or warping problems that can occur when wood is exposed to dry or humid conditions. The last two layers are the Oak, Alder, Maple, Cherry or Mahogany wood that is the actual surface of your product. The glue used to bond these seven layers together is a formaldehyde free product. Formaldehyde is a known cancer causer. We don't want to expose either our customers or our employees to an inferior product using formaldehyde based glues. Just try and find that level of concern for quality and health with any of our competitors. Furniture Grade Ply wood is more expensive and well worth the investment. I think it's important to know that the furniture grade ply wood that we use is actually engineered specifically for Wilding Wallbeds. We've found, over the years of constructing Wallbeds, it is critical for quality and durability to have this furniture grade ply wood built to our specifications. When other companies don't make a big deal about telling you that they use Furniture Grade ply wood, it' s because they are trying to cut corners and cost.
We actually build nearly every wood product that we sell. Raw materials arrive to us as sticks and boards, and we build it from the ground up. This gives us the ability to control every detail and every aspect of the design and quality of our products. We use computer precision combined with old world wood joinery to create the finest value in Wallbed, Entertainment Center and Home office products in the market...anywhere!...Plus, because we build it specifically for you. You get to choose, style, color, wood type and size. You simply can't beat our pricing, value and service! The only items that we don't build are our Murphy Cabinet Bed selections, which are manufactured in Indonesia. We have gone to great lengths to source a Murphy Cabinet bed line that shares our same commitment to all wood construction, attention to detail, quality and durability.
Safety is always a major concern as we build any product. Our goal is produce a product that is enjoyed for a lifetime and longer. Our Safety Cut Off Device is a patented "Mercury switch device" that when set up according to our instructions creates a "Positive Off" situation as the bed is raised. I'm sure it's not any secret to you that wood and heat can equal fire. Our Safety Cut off Device guaranties, when properly set up, that the lights will shut off before the bed fully closes. This ensures that the lights can not be left on when the bed is closed. We are certain that you will appreciate that additional safety and security in the home of the Wilding Wallbed Safety Cut Off Device. It's what we use in our homes we think you ought to have the same opportunity. Our competitors use a Pressure Switch device. During our early years in business we used the same device they use now. We've learned that this pressure switch fails occasionally, and occasionally is certainly enough for us to search out a better solution. Our Safety Cut Off Device is the better solution. When our competitors don't talk about a "Dual Mercury Switch" it's because they don't have it.
Safety in the home is always a major concern as we build any product. The Dual Locking Leg system is available on the HomeFront and Gallery series and does just what it sounds like. Both legs physically lock the Wall Bed into the upright position. This provides an added measure of safety in the home. Children have a tendency to climb and hang on things. If they try to climb or hang on the face of the bed, it's locked in the upright position and can not come down on them. If you live in an area more prone to earth quakes, the locking legs provide greater security as well. Some of our competitors use this product but the bulk of them use a "static" system meaning the Wallbed is held in place using static pressure from the spring or piston system. The safest in the industry is without question the Dual Locking Leg system.
No, We actually offer four Types of lifting mechanisms, Spring Lift, Piston Lift, power lift and the Murphy Frame. I'm not aware of any other company that offers even two types of lift mechanisms. We don't have to "sell" you on a specific thing. You can choose the mechanism that you like best and go with that one. If you want our opinion, we'll give it to you...but you have to ask. The reality is that each of our mechanisms have been chosen to fill specific needs. If you have an exceptionally tight area, then we'd guide you toward one vs. the others. If you have to carry it into a back bedroom which is down a tight hallway or down stairs, then we'll guide you toward another mechanism. Each of our mechanisms is built to last a lifetime...but you can still ask our opinion.
The truth is that a cabinet is only as good as the drawers in it. At Wilding Wallbeds we actually makes two quality levels in drawer construction, depending on what "series" of Wallbed that you choose. In our Gallery Series Products, we begin by using Solid Wood, this fact alone separates us from all of our competitors. Next, we dove tail all four corners of the drawer. Dove Tailing (see photo) is a process where the corners of the drawers are literally interlocked with each other using a wood joining process where wedge shaped pieces are cut alternately so that the two pieces allow each other to interlock. This produces drawer strength that is unequaled. These dove tailed drawer sides are then glued together providing additional security. If our competitors don't brag about Dove Tailed drawers, it's because they don't do them. Next, we "insert" the drawer bottom into all four sides of the drawer. The final result is a drawer so strong that I can actually stand on the drawer bottom and it supports me without breaking.
We've been in the industry long enough to truly understand the value of dove tailed drawers. If we have any competition left, this is where everyone else is left in the dust. We insert the drawer bottom, which is real wood, into all four sides of our drawer. Our competitors will just staple the bottom on the drawer. The problem is one too many items in the drawer and the drawer bottom falls off. Have you ever experienced that? Once the drawer is broken, the cabinet is useless. Our drawers are built to last a life time. It tells you a lot about a company when they don't cut corners even in their drawer boxes. Last, we use Full extension Blum Slow Close hardware. These glides are the best in the industry. The best for durability and weight bearing. They beat the old wood on wood glides too. Remember, we intend these to last you a lifetime, so we build them that way. If our competitors aren't talking about these, it's because they don't use them.
Our HomeFront and Studio Series products use 3/4" ply wood drawer boxes. The drawer bottom is also inserted into all four sides of the drawer. The HomeFront and Studio Series use Full Extension Ball Bearing glides. Drawer upgrades are available upon request for $25 per drawer. You and substitute the drawer quality that you're most comfortable with. Upgrading the drawer quality will increase the cost of the cabinet. Please ask for details.
Just like the "uni-body" construction that the car industry uses for automobile frames, we use this same concept in our cabinetry. What I mean by that is that we fully insert the cabinet back into the cabinet. By fully inserting the cabinet back, it significantly decreases the "Racking" problem so common with cabinets. Racking occurs when your floor is not perfectly level, as you place a large piece of wood furniture on your floor you will notice that the drawers or doors are crooked in the hole they were meant to fit in. The fully inserted cabinet back produces significant strength to help reduce or eliminate entirely the problem with "Racking". In our HomeFront and Gallery series cabinets we dado all of the permanent shelves. In each of these cabinets, we have three permanent shelves one at the top, one at the bottom and one in the center of the cabinet. This, again, produces greater strength in the cabinet. We also use solid wood trim on all of our wood products. This allows detail on the face of the cabinet that the European style cabinets don't have. The solid wood trim also strengthens the cabinet. If there is a shortcut to take, we will avoid it. What we are concerned with is building a product that will stand the day to day use for as long as you want to keep it.
We use the 110 degree European hinges on all of our doors. If you happen to choose one of our Gallery Series products, then we add the Blum soft close glides and soft close hinges so that the door can't slam shut. We like the looks of the cabinet better when you can't see the door hinges. The European hinges provide a tremendous ability to adjust the door in the space it was intended to fit. If you have a floor that is unlevel and the cabinet racks, this allows you to adjust the fit of the door on the cabinet so that everything hangs straight. This is a little detail that many companies miss. We want you to love the look and love the function of our products this just helps us accomplish that.
Our mechanism is warranted for life to the original purchaser. This means from the day you purchase it for as long as you own it, if you experience any type of mechanism failure, excluding abuse, we will replace the parts for you. We also guaranty your satisfaction with a 30 day money back offer. No other company is so confident in their product to offer these warrantees and guaranties. Please see our triple guarantee of reliability for additional information.
You can visit any of our showrooms located in St. George, Utah, San Diego, California, Chino Hills, California and El Segundo, California. We have factory representation in Salt Lake City, Utah, Phoenix, Arizona and Southern California. We also have a list of satisfied customers who approached us offering to show their beautiful Wilding Wallbed to anyone in their vicinity who is interested in purchasing from us. We generally have someone in your very zip code that has made that offer. Lastly we have a Color Brochure that we can mail directly to you. If you can't find what you're looking for, we likely have a photo or a drawing that we can e-mail to you.
Please call us for an up-to-date time estimate. The nice thing about this is that your order is built for you. You choose the color, wood type, and pieces. Your Wallbed shows up at your home with your name on the back of it, signed by the craftsman who built it for you.
We do have several pre-built Wallbed / cabinet combinations. Please visit our Specials page. Most of these beds will ship with in 3 business days (Monday-Friday). We also offer a couple of styles that move through the production facility in less than a week. Please ask for details.
In the Utah, Southern Nevada and Southern California areas, we nearly always deliver to the home and set up the unit for you. In other areas, we have a list of professionals that you can hire to set up the Wallbed. If you happen to live in an area where none of these services exist, we can help you locate a qualified handyman.
Was your question not here? Ask a different question