How is a Wilding Wallbed installed?
Questions and concerns answered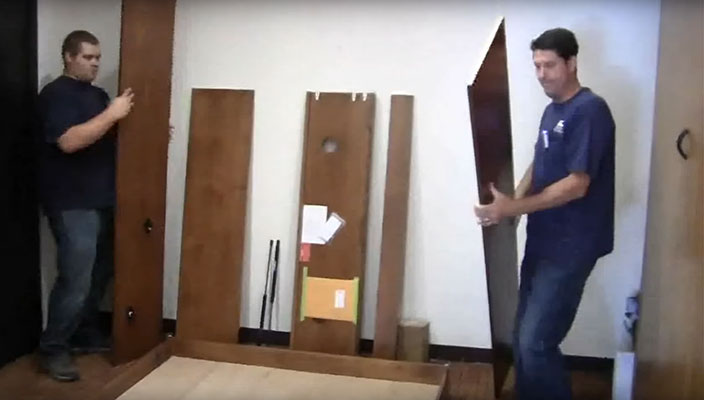 We've all had that item that we bought thinking it would be a "cake walk" to set up ourselves. It always seems like the instructions are a mile long and you have to have the skills and tools of a trained carpenter to even open the box. The project you thought was going to take a couple hours turned out to be a multi weekend project.

Purchasing the perfect Wilding Wallbed for your home or business is one matter. When it comes to actually getting it set up on site, it may be a whole other concern. After all, these are large, mechanically operational, hardwood furnishings. The weight of the components alone might be seem intimidating at first glance. The concern that one might have about this part of the process is definitely warranted. But I'd like to help put those concerns to rest.

So how does your Wilding Wallbed get from our production center to your guest room?
Can Wilding Wallbeds install your new wallbed?
The answer to this question is…maybe. As much as we'd like to fly around the world delivering and installing every bed we build, it's just not cost effective for our customers. Also, we are very aware that in a great many cases the customer loves the opportunity to save a buck by doing it themselves. That being said, if you are in the Southern Utah, Las Vegas Nevada, and the Southern California areas and would like one of our professional installers to deliver and set up your unit, that is something we offer. As you can see on the map we are limited to areas directly around interstate travel this allows us to service the greatest number of customers possible in proximity to our showrooms. For pricing and to verify that you are indeed inside our area please give us a call at 866-877-7803 (toll free).
What about the rest of us?
What are your options if you don't fall inside this installation area? After all, when we sell our product nationwide, this little stretch of Interstate 15 makes less that 1 percent of the area our customers live in. For those of you that fit this bill, we have a couple of solutions.

3rd Party Involvement: One option is to use a local independent contractor or handy man. We frequently collaborate with 3rd parties on behalf of our customers. In most cases they are especially pleased to work with our beds. This is due to the ease of the installations process as well as the variety of customer support we offer. Which brings me to the second option.
Do It Yourself: One of the main benefits of a Wilding wallbed over the conventional murphy bed is that they were engineered for easy construction and installation. This is by far the most popular method of our customers. The instructions that come with your bed are direct, easy to follow and, most importantly…they have lots of pictures. To make things even more convenient for you, Wilding Wallbeds components are packaged with labels and indicators to help you through the installation process. For a quick Example take the first step from our Home front Series installation packet.
The instructions and images in your packet alone give you adequate information to execute the task, but just in case Wilding has added visual queues throughout the unit to ensure your proper orientation and ease of completion. (As you can see directional arrows are placed in key place to assist you with the process.)
Video Installation Instructions
If you're still a little uneasy or maybe you just need to see how the process is physically done. Then for additional support Wilding has taken the liberty of making several detailed video instructions that can be viewed on your computer or mobile device. Here you'll find each of the bed styles currently offered.
Just select the model that matches your purchase and follow along as Dennis Wilding himself walks you through the steps of the installation process from start to finish. While you're on the installation instruction page you might notice that at the top of each page are digital copies of the installation pack you received with your shipped bed as well as the list of recommended tools one might need while assembling your Wilding Wallbed. This is all in an effort to make sure you have the necessary information to make your wallbed experience a good one. So if your dog gets to that installation pack or the kids use it as a coloring book, don't worry, we've got you covered.
Customer Service Hotline
As much as we hope that we covered every possible outcome, it's inevitable that at some point someone might hit a snag. Something that they just can't resolve and the information doesn't cover. In that case just call our toll free Customer Service Hotline 1-866-725-6401 or leave us a message on our Customer Service page. We'll be there to help evaluate your problem and resolve your issue in a timely manner.
Positive Customer Experience
If there's only one takeaway from this article, let it be the knowledge that Wilding Wallbeds has your interests covered from start to finish. From our home to your home. Since we can't always be there to set up your Wilding Wallbed for you, we want to provide any and all information you might need to do the setup yourself. So when purchasing your Wilding Wallbed, you can purchase with the knowledge that we'll be there every step of the way.
Written by
Chase Letters
Sales Associate
St. George Showroom