The Disappearing Desk Bed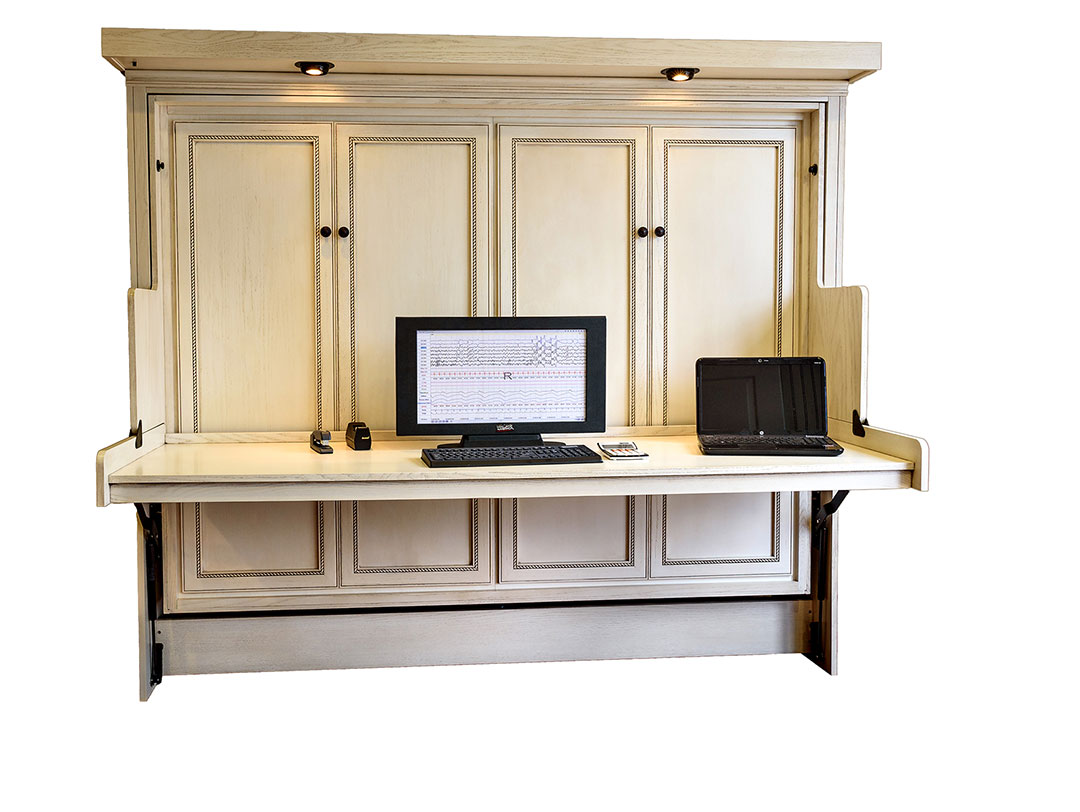 Call Now 866-877-7803
Price as shown $4,158. Price includes the Queen size Paris style Disappearing Desk Bed in Oak wood with Antique White finish and Light Bridge (Incandescent Lights). Add $249 for shipping within the Contiguous U.S. Buy this bed as shown.
Features
No Particle Board
All wood construction
Solid Wood Trim
25" deep Desktop
Locking Hardware
Dimensions
| | | | | |
| --- | --- | --- | --- | --- |
| | Height | Width | Depth | Projection |
| Queen | 75" | 86.25" | 46.5" | 67" |
| Full | 69" | 81.5" | 46.5" | 61" |
| Twin | 58" | 81.5" | 46.5" | 50" |
*Projection is measured from the wall. This is the total distance into the room, from the wall, that the bed occupies.
Desk section is 25.5" deep.
Adding the light bridge adds 3" in height and 1 1/2" in width.
| | |
| --- | --- |
| Light Bridge (Incandescent Lights) | $449 |
| Light Bridge (LED Lights) | $509 |
| Crown Molding | $150 |
What is the Disappearing Desk Bed?
The Disappearing Desk Bed is what happens when necessity, utility and design meet engineering. This beautifully functional bed is the solution to so many of today's modern space constraints. We ask the question "Why solve one space related issue when you can solve at least two with one product?" The Disappearing Desk Bed gives you the freedom to turn any space into a office and bedroom at the same time. In the Disappearing Desk Bed's upright position it serves as a large and spacious work surface. Giving you the ability to work comfortably from your desktop or laptop PC, and when needed the bed can be brought down revealing your mattress. The Disappearing Desk Bed utilizes an ingenious hinging system that keeps the desk level to the floor as the bed is opened or closed. There is no need to remove your things off of your desk to transition the Disappearing Desk Bed to the sleep position. This Disappearing Desk Ded has 17" clearance for any of the items left on the desktop. The desktop rides at 31" from the floor and is a spacious 25" deep. When the bed is in use, the mattress sits at approximately 32" (using a 10" mattress) from the floor to the top of the mattress. The Disappearing Desk Bed is secured in the upright position by the use of the locking pin hardware, which is included on both the left and right sides.This ensures the safety of you, your loved ones and your property. Though the desk itself will hold a great amount of weight, we recommend that you don't exceed 40 pounds. This ensures that the bed will lift and lower with the minimum effort.
See more images