How much does a Murphy Bed with a desk cost?
The Takeaway:
There are multiple solutions for a Murphy Bed with a Desk.
The various solutions range in functionality and price.
The prices for a quality Murphy Bed with a Desk range from ≈$2,800 and up.
Introduction
To properly answer this question we need to explore a little deeper what you're looking for, as there are several Murphy Beds with a desk option. The bottom line is that a Murphy Bed with a Desk will cost anywhere from $2,800 and up. However, as you get into looking for options, you'll quickly discern that some desk choices are made for short term limited use while others are made for long term, everyday use. In this article, we'll take these one by one starting with what is usually the least expensive. The other thing to consider is that this article is written in December of 2021. Raw material costs increase from time to time, so prices expressed in this article may be out of date, so we'll provide links to sites that will provide more up-to-date pricing. This post, however, should provide you a real feel for what will ultimately be your options and approximate pricing.
Wall Bed with a Drop Down Table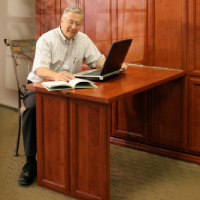 If you need a desk from time to time and your projects are small and your space very limited, this option is fabulous. This Drop Down Table option may be added to most Wall Beds and functions beautifully as a desk for those smaller projects. Here's how it works: the desk is attached to the face of the Wall Bed by a hinge that allows the desk, or Drop Down Table to store either in the upright position by securing to the bed face with a simple thumb slide or stored down, ready for use. The total work surface is approximately 30" x 48". It's large enough and easy enough to use that you'll find it a great asset in most rooms and it provides that extra work space for small crafts, some sewing, laptop use and many other activities. This option may add anywhere from around $400 to $550 to the base price of your Wall Bed selection. The price of this option depends on wood selection and style selection.This is going to be your least expensive option for a Murphy Bed with a Desk. You can consult our Drop Down Table page for current pricing, wood selections and style selections.
Murphy Bed with a Studio Desk
This will prove to be your next least expensive option. As expressed above, this option is also available as an addition to many Murphy Bed style choices. This option uses a specialized hinge system that has been engineered to provide a very functional desk on the face of a Murphy Bed. A couple of things to be aware of here is that the mechanism is engineered to move in unison while lowering your Murphy Bed. All items on this desk surface remain perfectly level with the floor. One of the major conveniences with this option is that you may leave your work on the desktop–don't worry–it will stay perfectly level and will not spill onto the floor. This is a fun desk to use. The desk size is approximately 20" x 60", which works beautifully as a worktop. When the Murphy Bed is in use, the space between the desktop and the Murphy Bed face is approximately 9 inches. Anything taller than this would need to be removed as the Murphy Bed lowers, but everything else may stay in place.
The Studio desk option works wonderfully for laptop use. While the Murphy bed is stored in the up position, the desk space is always available. The desk does not lift up to store upright, but remains level with the floor. The cost of this option may add $550 to $700 to the base cost of your Murphy bed. The price will ultimately depend on your wood selection as some woods run a little more than other woods. For instance, Oak wood vs Cherry wood. Cherry wood will run more than Oak. Take a look at our Studio Desk Page for up to date information and pricing.
Murphy Desk Bed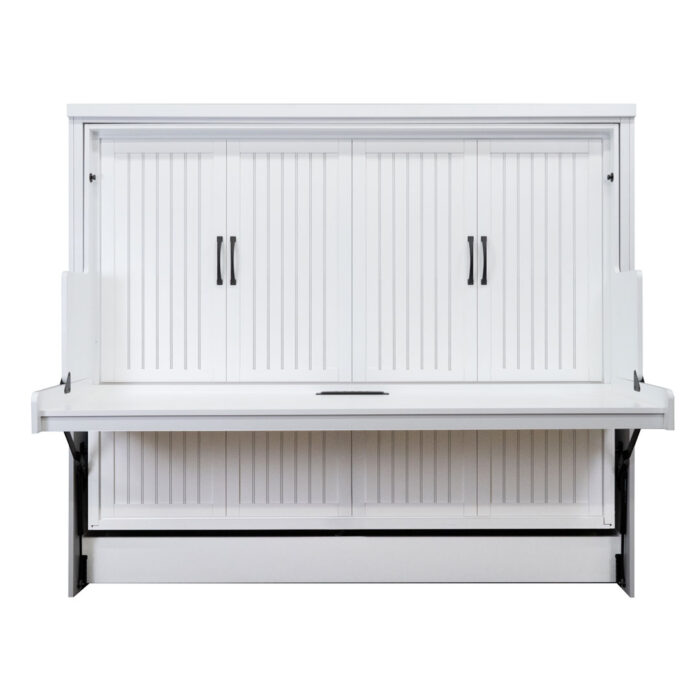 This one is sure to delight! This option has proven to be a real contender for the most popular Murphy Bed with a desk in the industry over many years. The desk is huge–around 24" x 84". Like the Studio Desk, the Desk is always ready for use and remains level with the floor always, either while in use as a Murphy Bed or in use as a desk. As you lower the Murphy Bed, this desk will remain perfectly level with the floor. All items on your desk may remain right where they are. The action of this desk is so smooth that you'll find nothing is disturbed as you lift and lower the Murphy bed. The space between the desktop and the face of the Murphy Bed is a whopping 17 inches, which means that many computers and monitors will fit in this space. This is an exceptionally functional desk option for a Murphy Bed. Pricing, as explained above will vary depending on your Murphy Bed style choice and your wood type selection, as of today's date, this Murphy Bed with desk will begin at around $3800 for a queen size. This wonderful option will immediately allow your room to function as a permanent office and as a beautiful guest room. Take a look at our Murphy Desk Bed page to see up-to-date pricing information.
Murphy Bed with a permanent office type desk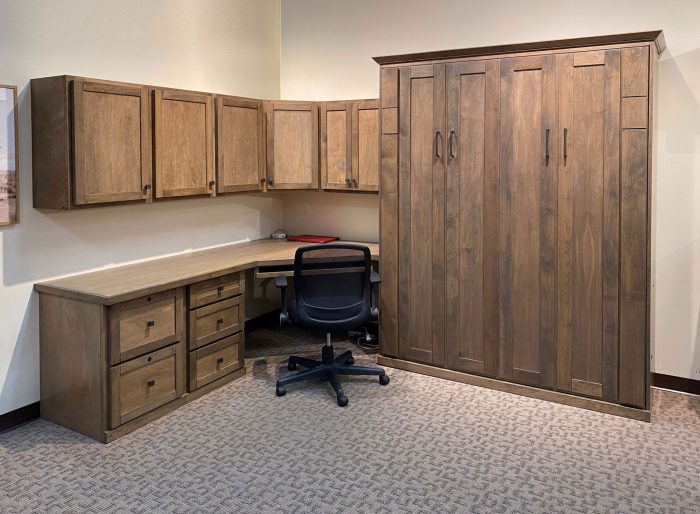 This option will provide you with the most functional desk possible for a Murphy bed or Wall bed. This desk unit attaches to one or the other sides of your Murphy Bed selection. The desk is always out and ready for use. The desk unit is comfortable and may be used as a professional, everyday desk. The desktop may be any size that you want, as this selection may easily be customized to fit your needs. The most popular size of this desk is 48" x 84". This desk unit is usually placed into a corner in your room and may wrap from one wall to the adjacent wall. You will find a multiple of pedestal (under desk cabinets) options and wall cabinet (cabinets hung on the wall above the desk top) options. Additional options may allow you to provide multiple workstations, wall to wall and or floor to ceiling cabinets and desk space. As you will obviously expect, pricing on this option will vary widely. You may find simple solutions that run as little as $1000 and will increase in price with larger desk space and cabinetry selections. In the long run though, this will provide you with a very functional work space and guest room. Get started planning your Murphy bed home office.