Getting to Know Our Chino Hills Murphy Bed Showroom
Take a tour with us of the Wilding Wallbeds Murphy bed showroom in Chino Hills, CA. Learn about what you can expect to see at the showroom and what makes our showroom experience different from any other Murphy bed showroom.
Wilding Wallbeds has been servicing the Southern California area for over two decades. In 2012 Wilding Wallbeds opened the Chino Hills showroom. This storefront is conveniently located in Chino Hills, right off of the CA71 Freeway, making it easily accessible to most of Southern California, including Riverside county, Orange county, San Bernardino county, San Diego county, and more. The showroom displays many of our Murphy beds, and employs a team of Murphy bed experts ready to answer your questions and assist you in the purchasing process. Check out our Chino Hills showroom to learn how you can make your space work for you.
What beds are on display at the Chino Hills showroom?
With so many options on display at the showroom, it is absolutely worth your time to stop by and see what we are all about. Check out this video tour of the showroom to get a taste of what we have.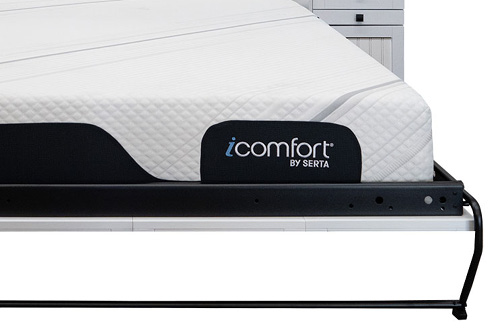 Mattresses
Choosing the correct mattress to go with your Murphy bed is critical. A wall bed is only as comfortable as the mattress. We have a line of mattresses custom designed for us by Serta mattress company. These mattresses are able to stand up without slumping or sagging. Serta warranties these mattresses in a Wilding Wallbed product for 10 years. The mattresses and Murphy beds are available in standard sizes including Twin, Full, Queen and even King sizes. All of our mattresses are on display in the Chino Hills showroom so you are able to lay on each mattress to figure out which one works best for your scenario and your desired comfort.
Which options are on display at the Chino Hills Showroom?
Wilding Wallbeds custom builds each bed individually for each customer. That means that you get your choice of wood and finish. We build our Murphy beds out of Oak, Alder, Cherry and Mahogany woods. Each of these woods are available in a variety of colors including, stains, glazes, and paints. The Chino Hills showroom has a design center displaying all of the various wood color options, as well as glass door samples, and the different fabrics for the Sofa Murphy Bed. If you are having a hard time choosing the exact color in the showroom, our team can arrange to mail out color samples directly to your home so you can compare the colors in your space.
At the Chino Hills showroom, we have on display all of our Power Outlets which can be added to our Murphy beds to give you and your guests access to power right on your headboard and/or desktop. These outlets have standard 110v ports as well as USB ports for charging. We also have on display our LED Wallbed Lighting System, which can be added to any of our beds. This lighting system includes two LED lights, a touch switch controlling the three light settings, and a safety cutoff switch which turns off the lights for you in case you forget when closing the bed.
At Wilding Wallbeds we have three headboard options that can add a whole lot of function to your Murphy bed. Standard is the slim option saving you the most space, Deep Design is our most popular giving you a shelf at the head of the bed for your guests to put their things and for you to store the pillows, and Storage Headboard is the deepest adding the most function with a hinged headboard top giving you access to hidden storage inside the headboard. All three of these options are shown on the Chino Hills showroom floor.
Side cabinets are a great way to customize your Murphy bed to really create functionality. Side cabinets can have shelves, doors, drawers, hanging space and are available in many shapes and sizes. We have many of our side cabinets on display for you to compare at our Chino Hills showroom.
A little about the Sales Team
The sales team at the Chino Hills showroom are experienced Murphy bed specialists. A major difference with us at Wilding Wallbeds is that we aren't just a retailer, we are actually the manufacturers. This means that we have control over Murphy bed through the entire process. Our sales team works directly with our cabinet makers as they build the Murphy beds. This allows the sales team to be extremely knowledgeable about our beds, understanding not only how a Murphy bed can work for you, but also how they are produced and constructed.
Visiting the Chino Hills showroom you will find that rather than being pitched on the different products our team will consult with you and educate you about our Murphy beds. We pride ourselves in not being pushy, but rather working with you to find the best solution for your space. Stop by our Chino Hills showroom and work with one of our Murphy bed experts to find out how we can help you transform your space.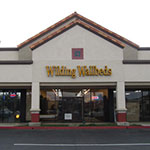 Learn More
Come design something with us.
M-F 10-5, Sat 10-4, PT
Brandon is the director of corporate sales, which means he oversees the sales staff at each Wilding Wallbeds location. He offers training, provides solutions, and helps our sales team tackle…