Your Henderson Wall Bed Supplier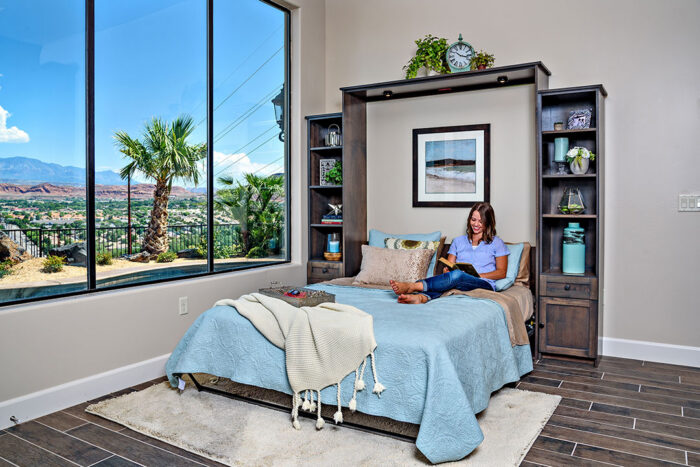 Since 1997, Wilding Wallbeds has been building and shipping our quality wallbeds across the United States. We are a southwest based company that takes pride in being the best Henderson wall bed supplier around. Because we manufacture our own products, there is no middle man, so the pricing from us to you is direct. This allows you to save thousands of dollars on products that might be considered "comparable". Our wall bed designs and other products make us the leader in this industry in every measurable way. From start to finish we ensure that all of our products are made with the highest quality products and craftsmanship available in the United States today. You won't find quality like this anywhere else! We are more than happy to ship all of our products to our customers in Henderson, Nevada – located just south of Las Vegas. We believe that any of our exclusive and innovative designs would be the perfect addition to any home in Henderson, NV. Here are just a few of our featured products that keep our customers raving about the quality and ingenious design of our wallbeds.
Wallbeds For Henderson
Choose from any of the following wallbeds or hidden storage beds to utilize space without scrimping on design and style for your Henderson home. For more options and types of wallbeds we invite you to browse our website. We can create the perfect wall bed for your home.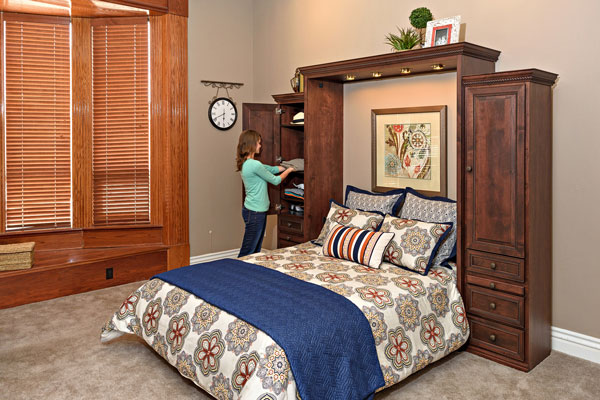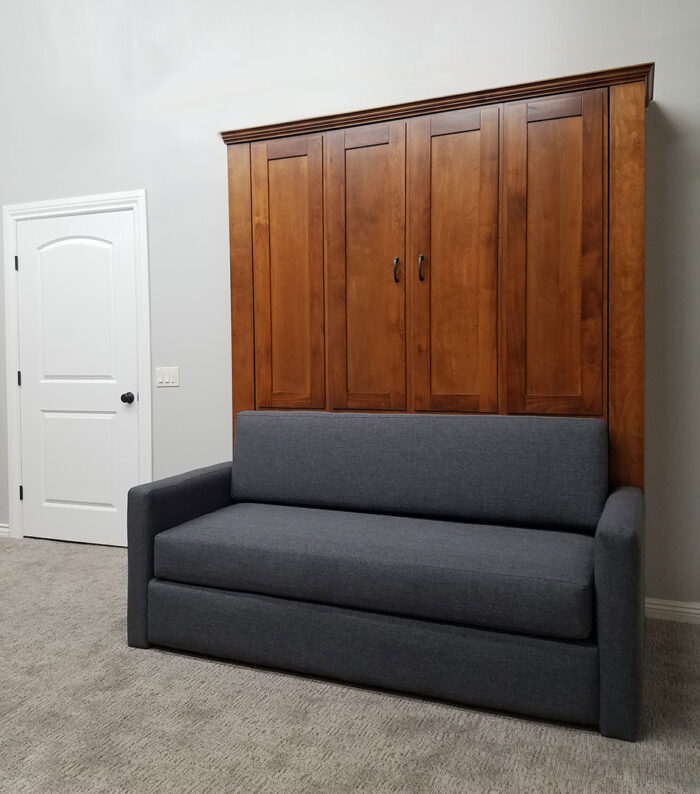 Remington Murphy Bed
We simply can't talk about Murphy beds by Wilding Wallbeds without mentioning our customer favorite, The Remington Murphy Bed. This simple, yet classic design features a solid wood design, complete with crown molding, your choice of wood finishes and add ons or accessories. Many of our customers like to add on side cabinets to this design for added storage. Find out how you can get this Murphy bed shipped to you from us, your premier Henderson wall bed supplier.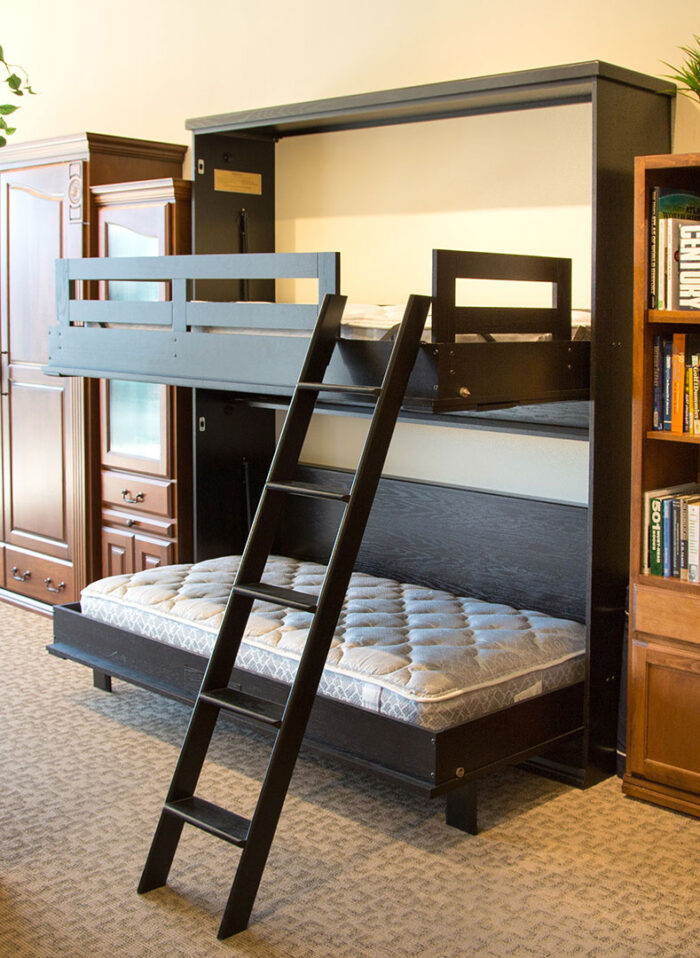 Murphy Bunk Beds
Do you have kids that fight you tooth and nail when bedtime comes around? We can help with that (somewhat). Our Bunk Bed Wallbeds, make sleeping seem a little bit cooler for kids. If that doesn't work at least you'll have more room for them to play in their own room, instead of trashing other rooms in the house. Wilding Wallbeds aren't just for kids either, our bunk beds can be added to any Henderson, NV fire station, dorm room or lodges!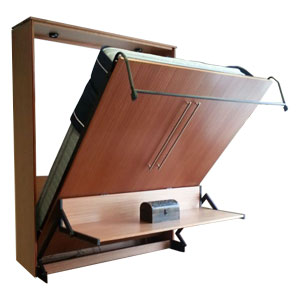 Dual Function Desk Beds
All of our Dual Function Desk Beds allow you to have the freedom to create any bedroom into an office or vice versa. One of our most popular beds in this series of space saving furniture is the Disappearing Desk Bed. When this bed is in its upright position it becomes a spacious work area. The beauty of this design is that it allows the user to pull out the bed for sleeping without having to clear away the desk! This is the result of an ingenious hinge system that keeps the desk parallel to the ground when the bed is out.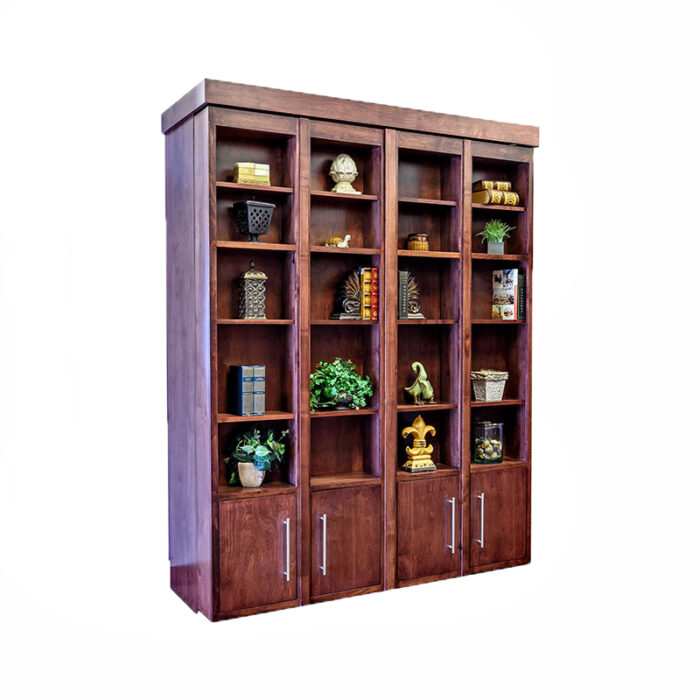 Bookcase Wallbed
Book lovers rejoice! No Henderson wallbed supplier's inventory would be complete without the innovative Bookcase wallbed. This bookcase serves a s beautiful focal point during the day and comfortable bed at night. Our Bookcase wallbeds feature no particle board and an all wood design with tubular steel construction. Ask us how you can add a touch sensitive lighting system to your Henderson wall bed so that you can enjoy your books at night without disturbing your partner.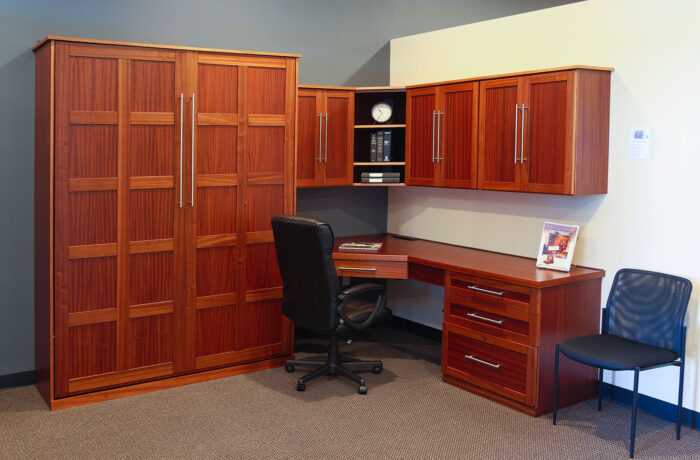 Home Office
Do you work from home, but don't have the space for an office? Or does your guest room double as a makeshift office for you? If you answered yes to either of these question, the customizable Home Office series is the perfect solution for you. The innovative design of our Home Office series, allows you to choose any of our Murphy Beds and design a fully functioning office around it. The sky's the limit with our Home Offices. Contact your Henderson wall bed supplier today for any questions or information about shipping these to your home in Henderson, Henderson.
Wilding Wallbeds Ships to Henderson, Nevada
Not only do we offer all the above mentioned Murphy beds, Wilding Wallbeds are also a perfect option for renters! As your premier Henderson wall bed supplier, we happily ship all of our products right to you. We make ordering with Wilding Wallbeds a breeze and all of our staff members are qualified to help you every step of the way in completing your order. Call us today to start saving space in your Henderson home.