Storage Beds & Hidden Storage Cabinets
Wilding Wallbeds is currently in the Research and Development process on a new line of beds and cabinets. We have aptly named these products the Storage Bed and Hidden Storage cabinets. At first glance the Storage Bed looks like any other bed. Pull on a nylon strap at the foot of the mattress and the mattress will easily lift up with the help of 2 pistons.
This provides ample storage space under the mattress that can be conveniently accessed. While you may be able to store things under a standard bed, the Storage Bed grants you easy access and eliminates the need to get down on the floor and drag out boxes.
How many of you have a closet that is filled with boxes of winter or summer clothes, baby clothes, or clothes that just don't quite fit, but one day they will? The Storage Bed can give you a place to store all those boxes of clothes that are on your closet floor and get them out of the way. You could even place extra bedding under the bed so when the time comes to change the linens on your bed they are right there ready to go. This bed can provide a safe place to store items that you don't use daily.
Need a headboard to go with your Storage Bed? We have put together an optional Storage Headboard that will provide even more storage. These headboards will have a grommet hole in the top center section and one going out the bottom of the storage compartment. This feature will allow you to run electrical devices or chargers for your phones. We even offer a 4 plug outlet strip with a charging port. This can be placed on top or on the bottom of the storage compartment.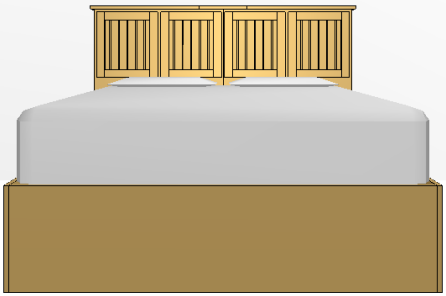 The Hidden Storage cabinets we are working on are quite unique. The top of the Nightstands actually slide forward exposing an area big enough for a handgun or other valuables you might have. The top is secured shut until a "Magnetic Key" is placed in the correct position. The base molding is actually a drawer front that also slides out to reveal a secret compartment. These bonus areas will provide a place to hide family heirlooms, personal documents, weapons, or even the tv remote so the kids won't run off with it and lose it. We also are developing a secret compartment in the top of a cabinet that will open with a magnetic lock to reveal storage space.
Our goal with these Hidden Storage beds and cabinets is to offer safe and convenient places for you to hide your family's treasures or other items. This is the latest example of how Wilding Wallbeds is using innovation to meet your space saving needs.
Written by Karson White
Technical Shop Drawings and Design