Limited time offer
Queen Size Brittany Wallbed Special
Price: $5,559.00 $5,911.00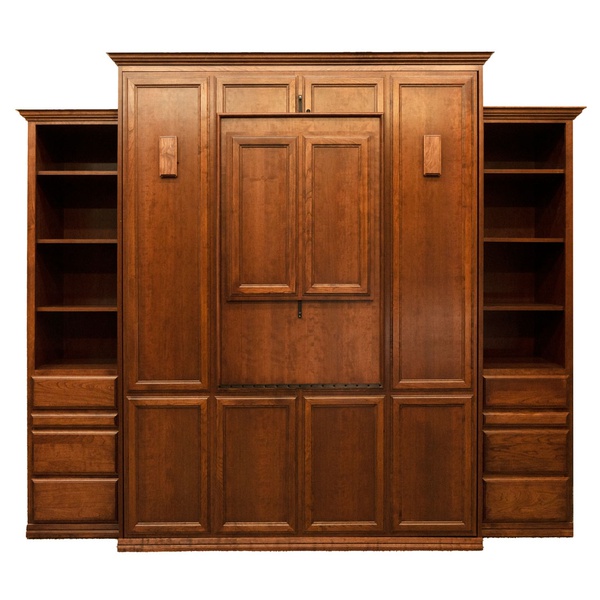 Ships out within 21 days
Includes wallbed lighting system
Built with 100% real wood
Questions?
Contact our friendly team
Product Overview
Description

Was $5911….Now Only $5559!

This one is loaded with lots of wonderful options. This special includes our queen size Brittany Wallbed in Cherry wood / Cimarron Valley Finish, LED Wallbed Light system with Safety cut off switch, Storage Headboard with a Power Disc 2-2 outlet, Corner Protectors, Drop Down Table, two Three Drawer cabinets with slide out tray, and, for a limited time, Wilding Wallbeds will pay up to $400 of your shipping. Please call toll free 866-877-7803 for more information.

Dimensions

| Depth | Width | Height |
| --- | --- | --- |
| 15.75 in. | 96 in. | 87.75 in. |

Shipping

Shipping info:

This bed is built and ready to ship within 21 business days.

Shipping options:

We'll pay up to $400 off your shipping

Curbside Shipping $500-$600 $100-$200*

Delivered onto driveway or curb

Driver will not bring pallent into garage or home

Basic White Glove Shipping $600-$700 $200-$300*

Delivered into your garage or carport

Drivers will not bring the pallet into the home or up steps

Premium White Glove Shipping $949 $549

Delivered into room of choice

Drivers will carry the unit up to no more than two flights of stairs

Drivers will unbox and remove all packaging materials

Drivers will not set up your bed

For more info on shipping, view our shipping information page

*Call for a specific price quote
What is an in-stock special?
The beds sold as in-stock specials are available for immediate purchase, and they typically ship much quicker than our custom, to-order Murphy beds. Because these beds are pre-built, we cannot customize or modify any in-stock beds.
Reasons a bed might be an in-stock special:
Extra stock for anticipated demand
Showroom models
Discounted due to minor damage
Built as a prototype
Made for photography or videos
For more info on why this particular model is an in-stock special, give us a call at 866-877-7803
Call now for more information about this special
866-877-7803