Posted by Eric on February 12th, 2017
Wilding Wallbeds: Your Unique Furniture Retailers
Wilding Wallbeds are made to stand the test of time. Made with the highest quality materials that combine high-tech and a fast-paced manufacturing toolset with handcrafted artisan techniques. Our quality suppliers join us in our mission to build superior products that stand up beautiful through the years.
You will have your choice from a huge selection of our available products. Every line we carry is top of the line quality you can expect at Wilding Wallbeds. Measure our quality against the rest and you will see our level of excellence speaks for itself.
Not only do we carry wallbeds, we also carry a variety of products that help you make the most of the space in your home. All of our products are built with the Wilding Wallbeds quality that you can count on. Other great products we carry include:
Bookcase Wallbeds

Hidden Storage Bed

Bunk Wallbed

Dual Function Desk Beds

Home Office Cabinets

Power Wallbeds
Want to see what we have to offer? Head to one of our showrooms today, located in Chino Hills, El Segundo and San Diego.
Unique Furniture Manufacturer For Bookcase Wallbed
Your guest bedroom can be so much more than just a room for a bed. Turn your guest room into your personal library! You can make it happen with our bookcase wallbeds that combine guest comfort and convenient bookcase storage. Our unique furniture retailer makes ordering exactly what you need easy! Available in in twin, full and queen sizes, with options for oak, alder, maple, cherry or mahogany. Our bi-fold or standard open options allow you to choose a style that is the perfect fit for your space. The options don't stop there! Some other customizable options you'll get from our unique furniture retailers include:
Lighting

Power Outlets

Finishes

Mattresses

Side Cabinets

And More!
Unique Furniture Retailers Bring You the Most Storage!
If there was one thing your home could use more of, what would it be? Everyone always seems to need more storage! Find a convenient place to stow our things always seems a daunting task. This seems especially common in bedrooms. From clothes and shoes to all sorts of other items that need to be stowed in a room that is mostly taken up with a huge bed, where else does the stuff have to go? It seems that the floor often turns into our main shelf or even the bed! We want to help you get organized with Wilding Wallbeds Hidden Storage Bed!
The lifting deck replaces the box spring in our Hidden Storage Bed. The Hidden Storage Bed uses a European slat system that makes your mattress feel just like it has a box spring, meaning you will not sacrifice comfort for function! A easy to use strap at the foot of the bed will help you easily lift the mattress without needing to remove any of the bedding. The space that once was used by your box spring and bed frame will convert into a huge hidden storage area! When you are done stowing you things the bed deck easily drops back into place.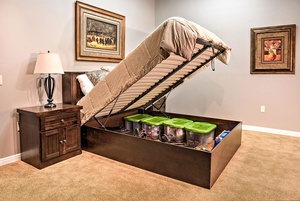 Our Hidden Storage bed is available in twin, full, queen and king sizes starting at $1335. From there you will have a wide range of additions to choose from such as:
Headboard storage

Hidden nightstand drawers

Hidden nightstand storage

Wood finishes

And more!
Stop by one of our showrooms to see who makes unique furniture that offers great storage solutions for your home.
The Bunk Wallbed: Functional Fun
Need more space for playtime in the kid's room? Our bunk wallbeds are the perfect solution for saving valuable play space! During the day, simply fold these beds up to the wall for wide open play space. These beds can fold up to the wall during the day for unobstructed playtime. At bedtime fold them down for a fun place that can sleep two. Available in twin and extra long twin these beds can accommodate grown-up guests as well!
Home Office Storage Solutions and Dual Function Desk Beds
Home office storage can make life so much easier! When everything has a place to go and everything fits, clutter disappears. Our home office cabinets allow you to put together the perfect office. You will be able pick and choose from our custom pieces. With our variety of sizes and designs you can choose from upper and lower cabinets to create a home office with great functionality. Just give us a call and our helpful staff will work with you to determine your space constraints and design an office that is exactly what you want.
Trying to decide if you are going to turn the spare room into an office or a quest room? Why choose one?! With a touch of a hand you can turn your office into a guest room. Our disappearing desk beds will help you make the most of your spare room.
Unique Furniture Manufacturer Wilding Wallbeds' The Power Wallbed
One of the coolest products we carry is the Power Wallbed. This amazing bed will automatically appear at the touch of a button! You no longer need to worry about lowering and lifting a traditional wallbed. This power wallbed is remote controlled! This wallbed does not need to be attached to the wall like traditional wallbeds. It literally stands up on its own! The power wallbed can hide a mattress in plain sight and function as a beautiful entertainment center or shelving unit. Our power wall bed is only available in queen size. This stunning piece is available in a variety of finishes and styles and will be a functional addition in your home.
The Power Wallbed utilizes the trusted Zoom-Room mechanism to stow your bed at the touch of a button. You will need to remove bedding before stowing this wall bed to ensure blankets and sheets do not get tangled in the mechanism.
Wilding Wallbeds is a Unique Furniture Retailer Near You
Pictures aren't enough! Come by one of our showrooms to see our products in person. Walk in any time into one of your three beautiful showrooms. Who makes unique furniture that is functional and beautiful? We do!
Our three California showrooms are located in:
Chino Hills Showroom
4200 Chino Hills Parkway Suite 660
Chino Hills, CA 91709
El Segundo Showroom
446 Main Street
El Segundo, CA 90245
San Diego Showroom
7944 Miramar Road
San Diego, CA 92126
Stop by Wilding Wallbeds Today!
Why should you buy from our unique furniture retailers? At Wilding Wallbeds we believe in quality, functionality and beauty. We only carry the best products that are made with beautiful craftsmanship quality and the best materials. Each piece is designed to make the most of your valuable space. You know that you are getting the best product that will compliment your home and provide great functionality for years to come! Stop into a Wilding Wallbeds showroom today!